Rove Knitwear: Embracing Elegance and Comfort in Every Stitch
A return to craftsmanship and artisanal goods has never been more appealing. Rove Knitwear, a boutique brand known for its exquisite handmade knitted products, exemplifies this trend. With a commitment to quality and an emphasis on style, Rove Knitwear has been crafting timeless pieces that not only keep you warm but also bring a touch of elegance to your wardrobe. In this feature, we delve into two of their finest creations, the Purl Stitch Wrist Warmers and the Garter Stitch Scarf.
The Art of Knitting
At Rove Knitwear, knitting is more than just a craft; it's an art form. Each piece is created with precision, dedication, and an appreciation for tradition. The artisans at Rove Knitwear combine their skills with the finest materials to produce exceptional knitwear that transcends the ordinary.
The Purl Stitch Wrist Warmers and Garter Stitch Scarf are prime examples of this dedication to quality. These pieces are not just accessories; they are a testament to the art of knitting and the brand's commitment to delivering a truly exceptional product.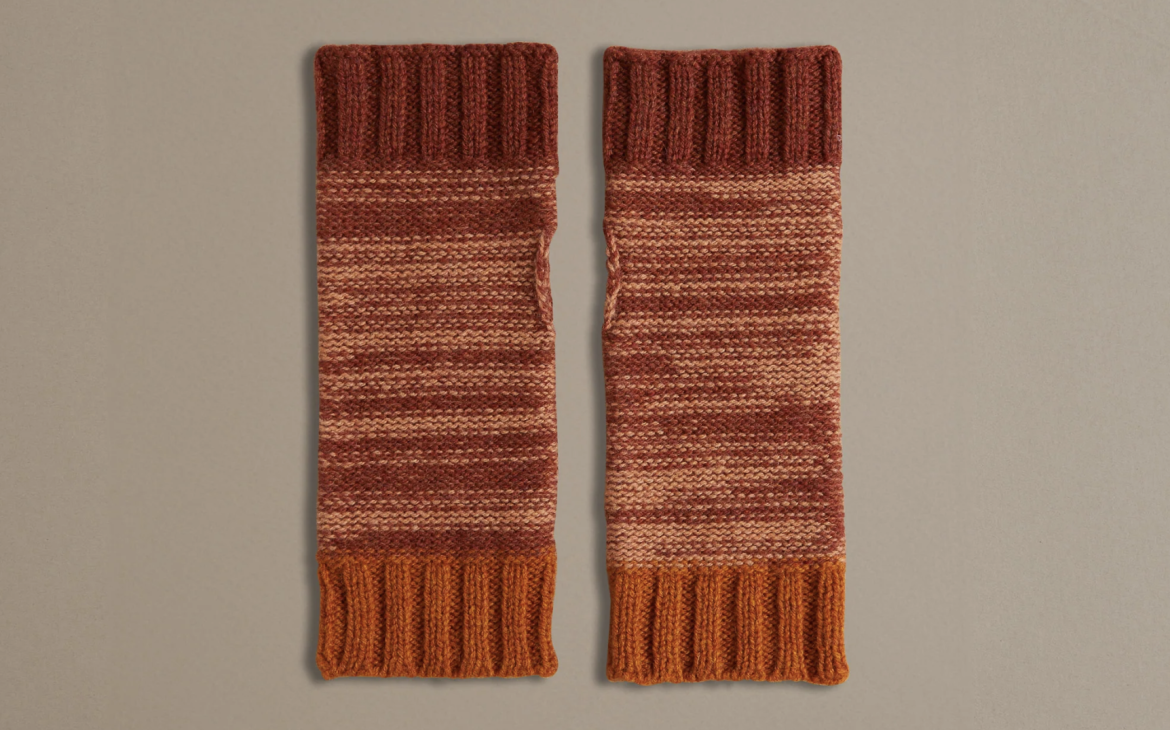 Purl Stitch Wrist Warmers – A Touch of Warmth and Elegance
The Purl Stitch Wrist Warmers from Rove Knitwear are a perfect blend of form and function. Crafted with care, these wrist warmers are designed to keep you cosy during chilly days while adding a touch of elegance to your outfit. The rich rust colour of the warmers is both fashionable and versatile, making them a timeless addition to any wardrobe.
What sets these wrist warmers apart is the delicate purl stitch pattern. The intricate design is not just visually appealing but also adds a layer of insulation to keep your hands warm. Whether you're sipping hot cocoa by the fire or out for a crisp autumn walk, the Purl Stitch Wrist Warmers are the ideal companions.
Garter Stitch Scarf – Classic Comfort for All Seasons
The Garter Stitch Scarf by Rove Knitwear is a testament to the brand's ability to blend traditional knitting techniques with modern style. The scarf is hand-knitted in a classic garter stitch pattern, a favourite among knitters for its simplicity and comforting texture.
This versatile piece is a luxurious accessory that can be worn during any season. Its lush green colour makes it a statement piece, adding a pop of colour to your ensemble. Whether you drape it over your shoulders during a chilly evening or wrap it around your neck for a stylish winter look, the Garter Stitch Scarf is designed for both warmth and style.
The Rove Knitwear Difference
What truly sets Rove Knitwear apart is the dedication to creating products that stand the test of time. Each item is made with the utmost care and attention to detail, ensuring that you receive a piece of wearable art that will last for years.
Their commitment to sustainability is also noteworthy. Rove Knitwear uses only high-quality, natural materials, minimising environmental impact. Their belief in quality over quantity is a refreshing change in today's fast fashion industry.
"Discover the Cozy Craftsmanship of Rove Knitwear's Purl Stitch Wrist Warmers and Garter Stitch Scarf"
In an era of disposable fashion, Rove Knitwear's Purl Stitch Wrist Warmers and Garter Stitch Scarf are a breath of fresh air. These handcrafted creations are not just garments; they are expressions of artistry, elegance, and a slower, more sustainable approach to fashion.
Whether you're looking to treat yourself or find the perfect gift for a loved one, Rove Knitwear's exquisite products are worth every penny. Embrace the comfort, style, and craftsmanship of Rove Knitwear and experience the joy of wearing knitted artistry.
View the Rove Knitwear website here.