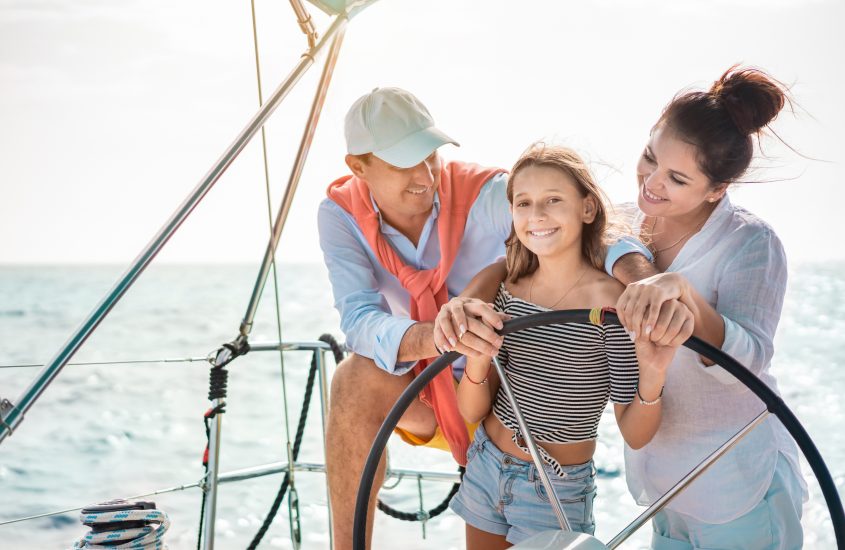 The Best Destinations For a Luxury Family Break
Taking time off to bond with family and spend quality time at some of the world's most luxurious destinations is a welcoming break from the hustle and bustle of daily life. However, deciding on the destination for a family holiday can often be daunting. If you need help, refer below for our recommendations on the best destinations for a luxury family break.
Italy
Italy is the perfect destination for a family trip, especially for families looking for luxurious escapes. The cities are like open-air museums, offering numerous things for adults and kids to discover. In addition, Italy's cuisine is world-renowned and appeals to all palates, including kids who are picky eaters.
Italy has no shortage of luxurious accommodations to book, giving you plenty of options for your luxury family break. In popular cities, you'll find hotels that cater to families with upscale amenities and world-class facilities. Visit the Amalfi and charter a luxury yacht to sail to Capri. While the kids play on the beach, the adults can indulge in shopping therapy at the high-end boutiques of Capri. Finish off with a sumptuous dinner at one of the fancy restaurants along the coast.
If you're heading to Sicily, book a private helicopter flight to explore the island and admire Mount Etna from above. Offering a bird's eye view of the island, you and your kids will have an incredible time admiring the island's stunning landscapes, including ancient sites like the amphitheatre of Taormina. The tour includes hotel pickup and drop-off, with the option to personalise the experience to suit your needs and preferences.
Ibiza 
Families looking for a dreamy Mediterranean escape should head to Ibiza. Despite its vibrant nightlife and rowdy parties, it offers incredible family-friendly experiences guaranteed to delight everyone, from adults to kids. In addition, Ibiza has fantastic luxury family-friendly villas, offering the perfect place for families seeking a relaxing break.
While the nightlife scene of Ibiza is in San Antonio and Ibiza Town, there are sleepier spots on the island that are perfect for families and those looking for a more relaxing holiday. The quiet town of Santa Eularia offers a relaxed setting, allowing you to bond and spend quality time with the kids. It's also home to beautiful shallow beaches, safe for kids to swim and play.
If you're the type of family that prefers having a full agenda of activities while on holiday, Ibiza can offer that for you. Those based in Santa Eularia will find scenic cycling routes and bike rental facilities, perfect for active families who prefer to explore on a bike. Those fond of hiking will also find hiking trails, such as the 3-km-easy walk by the river. Water sports fans can try kayaking, canoeing, and stand-up paddleboarding in the crystal-clear waters surrounding the island.
Greece
Home to many beautiful islands and some of the world's most fascinating ancient sites, Greece can offer a family holiday you'll never forget. Aside from the gorgeous beaches, the Greek islands boast unspoiled countryside, mouthwatering food, and plenty of fun activities for adults and kids.
There's no shortage of fantastic things to see in Greece, which makes it a favourite destination for active families seeking a fun-filled getaway. And while the islands are known for their beautiful beaches, many are covered in lush greenery, offering the perfect setting for hiking holidays.
When it comes to luxury stays, Greece has plenty of options. You can take the kids to Santorini and stay at a cliffside hotel overlooking the breathtaking ocean views. Many offer lavish suites with heated pools, Jacuzzi, and other luxurious amenities.
For families that love history, spend some time in Athens, discovering famous sites like the Acropolis. Book a private tour with a guide to take you to the city's top attractions and skip the queues in some museums. The Orthodox Monasteries of Meteora is another ancient site worth visiting in Greece. Nestled on a cliff at 2,000 feet and boasting spectacular views, the best way to explore the place is to book a private guided tour.
Greece has many Michelin-starred restaurants, ideal for foodie families seeking a luxury dining experience. Many of these restaurants are in famous places like Athens and Santorini. Dining at these restaurants is an experience you'll never forget, best shared with the people you love,
Portugal 
Portugal is one of Europe's most popular destinations for a family holiday. From discovering ancient castles to strolling the picturesque winding streets of Lisbon and frolicking in the glorious beaches of the Algarve, Portugal is a delight to visit with the family. What's more, there are amazing villa rentals in Portugal, perfect for luxury family breaks.
One of the most luxurious experiences families can try in Portugal is booking a private dinner cruise along the majestic Douro River. As your boat sails the tranquil water, admire the stunning views of soaring bell towers, stately buildings, and beautiful Baroque churches. Your cruise includes fancy dinners paired with exquisite wine.
If you have older kids who want to enjoy surfing and other water sports, visit the small fishing village of Nazare, renowned for its giant waves. It also has some surfing schools teaching surfers of different skill levels. While the kids play in the water, the adults can stroll through the charming town and dine at seafood restaurants.
Croatia
Families fond of ancient fortresses, nature parks, enchanting islands, and historic cities should choose Croatia for their next family getaway. While most families spend time in Dubrovnik, many other places in Croatia offer the perfect setting for a luxury family vacation.
Visit Hvar, a spectacular island well-known for its luxury hotels, fancy restaurants, pretty cobblestone streets, and a lovely harbour filled with yachts. Wander around the streets and head to St. Stephen's Square, a bustling place full of restaurants and cafes. For fun days at the beach, check out the shallow sandy beaches near the charming town of Jelsa.
Split is an incredible choice if you have kids who love history. You can spend the day wandering around the Diocletian's Palace, a UNESCO World Heritage Site built at the end of the 3rd century AD. When it's time to relax, visit Bačvice Beach for a refreshing swim and to enjoy the spectacular views.