You may prefer the much loved Easter egg, stacked in huge piles in our nation's supermarkets or you may choose to select something a little different for your Easter gifts this year. Either way check out our selection of our favourite Easter treats below…
Fieldfare's Perfect picks for Easter
Pastries: For an easy Easter brunch, Fieldfare's unique 'ready to prove' All Butter Pain au Chocolat and Croissants will delight friends and family. Deliciously light and fluffy, take them out of the freezer the night before, leave to rise overnight and you'll be amazed by these gigantic, authentic buttery French croissants.
Fieldfare is available nationwide at selected farm shops, delis, garden centres and butchers.
Please visit https://field-fare.com/stockists/ to find your nearest Fieldfare stockist.
Bunny personalised print
Easter inspired personalised Bunny print, with the name or wording of your choice. any colour combination, see photos for inspiration.
See > https://www.myrockabye.co.uk/product/bunny-perssonalised-print/
Mori Bunny Pyjamas
Little ones will hop to bed happily in these Bunny Pyjamas. Made from the softest organic cotton and bamboo fabric, the pyjamas have a comfortable elasticated waistband and shoulder fastening up to 2 years.
See > https://babymori.com/products/bunny-pyjamas
PLAYin CHOC
A plastic-free alternative to the Easter egg. Each Rabbit ToyChoc box has 2 allergen free chocolates, a fun rabbit puzzle toy and a fact card. The brand is zero-waste, 100% recyclable, ethical and sustainable. Suitable for virtually everyone, as the recipe has just three natural and organic ingredients (cacao, vanilla and coconut).
Available from 3000 stockists globally and their Easter Shop is at www.playinchoc.com
Teapigs Hot Cross Bun tea
All natural ingredients, naturally caffeine free, just 3 calories, and 100% plant based packaging.
See > https://www.teapigs.co.uk/products/hot-cross-bun-tea
Rachel Riley Moss stitch cardian
Moss stitch cardian in blue, with a collar, pockets, pearl button front to fasten and ribbing at the waist and cuffs for a comfortable fit.
See > https://www.rachelriley.co.uk/collections/easter-edit-1/products/moss-stitch-cardigan-blue
Conscious Chocolate Easter Bunnies
Conscious Chocolate are well known for their excellent ethics and as the original creators of raw chocolate they know a thing or two about delicious cacao goodies that are free from dairy, gluten and allergens.
This Easter they've launched these incredibly beautiful Chocolate Easter Bunnies, created by Emma Jackman, Conscious Chocolate founder, in her kitchen.
As with all Conscious Chocolate, these adorable rabbits are raw, made with cacao that's organic, slave free, sustainable and renewable from a dedicated biosphere in the Peruvian rainforest. The packaging is completely recyclable, with vegetable dyes used for the striking colours.
The chocolate bunnies are flavoured with organic citrus fruit, specifically lemon and grapefruit, giving them a fresh, inviting taste that delights and titivates.
See > www.consciouschocolate.com
Melt-in-your-mouth Flapjackery joy delivered straight to your door this Easter
Lick your lips in sugary joy this Easter with a delicious box of flapjacks delivered to your door by Devon-based Flapjackery.
These wonderful, hand-made gluten-free creations of unique flavour are dripping in British history and golden syrup. They're made on the edge of Dartmoor using the highest quality, gluten-free ingredients.
All flapjacks are suitable for home freezing and have a varying shelf life, depending upon the ingredients, with the shortest shelf life two weeks, and they are packaged in recyclable cardboard.
Flapjackery was founded by friends Carol Myott and Sally Jenkin in 2015 who started the business baking in their own kitchens. Today it employs 12 people and has a shop in Tavistock with a second due to open in Wells later this year.
Flapjackery only produces flapjacks that are made with British butter, British oats and the finest luxury ingredients.
The flapjacks are sold at events and festivals, online through the website and in their Tavistock shop which will re-open on April 12.
Pick the box you fancy and send it with love this Easter. Order online at www.flapjackery.co.uk
SILKBEBE Bunny Comforter
This adorable little beastie is made of pure 22 momme Mulberry Silk.
Even his ears are filled with pure mulberry Silk, for a natural and beautiful comforter for babies.
The Silk is an interesting sensory material for baby and is light and smooth for baby to touch.
Bunny has been tested for toy safety compliance so you may be reassured of silky safety for the little ones and is CE marked.
Bunny comes in a gift box for gifting.
See > https://thisissilk.com/collections/silk-bebe/products/silkbebe-bunny-comforter
Walkers Shortbread
If you're looking for a little luxury this Easter, indulge with the Walker's Shortbread Gold Tin. This beautiful gift tin comes with an assortment of shortbread fingers, rounds, ovals and triangles, all wrapped up in a beautifully embossed gold tin with Scottish thistles and traditional red tartan. Available from Walker's Shortbread website (RRP £6.50).
Why not create a personalised Build-Your-Own Hamper including some most-loved products this Easter? Select up to 10 products for the perfect personalised gift that can be suited exactly to anyone's taste. RRP from £20 (depending on products chosen), the full selection can be viewed here and it is available to order from the Walker's Shortbread website.
Bring the Scottish Highlands to your home this Easter with this fantastic Highland Cow Keepsake Tin, find inside delicious cow shaped pure butter shortbread. Available from Walker's Shortbread website (RRP £9.00).
For a sweet alternative to chocolate this Easter, the Easter Bunny Tin contains pure butter mini lemon shortbread eggs. Available to order from the Walker's Shortbread website (RRP £2.65).
Boody Shaper Bra
Boody have done away with all unpleasant aspects of a conventional bra: the straps that dig in, tricky fastenings and the uncomfortable wires. Their shaper bra is the perfect all round stylish essential that provides the support, shape and comfort that you need. The peachy pastel colourway makes the shaper bra the perfect spring-time treat!
See > https://boody.co.uk/collections/women-bras/products/shaper-bra?variant=7076095557665
SWAP YOUR EASTER SWEET TREATS
Fancy some savoury rather than all that sweet? Try a pack of Tyrrells Hand Cooked English Crisps this Easter. Made using the finest British potatoes, Tyrrells Hand Cooked English Crisps are a great sharing alternative to enjoy this year. NEW Tyrrells Smoky BBQ is available to buy in Sainsbury's stores now (RRP £2.29, 150g sharing bag).
We can't predict the weather, but new McCoy's Fire Pit range is guaranteed to bring a bit of heat this Easter. With three delicious wood-fired inspired varieties to try; Flame Roasted Peri-Peri, Flame Smoked Chorizo, & Flame Scorched BBQ Ribs, new Fire Pit is forged from fire to ignite your desire! Available to buy in all major retailers, (RRP £1.70 multipacks: 89p sharing bags).
For something different, why not give Hula Hoop Puft a try this Easter? Available in four delicious flavours including Beef, Salted, Sweet Chilli and Salt & Vinegar, grab yourself a pack of Puft in all major retailers (RRP £1.70, 6x15g multipacks).
Or why not add a dollop of KP Peanut Butter on your Hot Cross Buns this Easter? KP Peanut butter is the first stabilised, palm oil free peanut butter on the market and free of additional sugar and artificial flavours. KP Peanut Butter comes in crunchy and smooth and is available to buy now in Asda, Tesco, and Morrison's (RRP £3.00, 340g).
LIGHTER EASTER SNACKING
Forget choc – it's pop-o-clock! Popped not fried, popchips have 72 calories per portion but are still full of flavour. What's more, popchips are now available in multipacks, with 23% less packaging. (RRP £1.70, 5x17g bag, available at all retailers)
Nut about nuts? There's nothing better than a good nut and KP take the peanut crown – it's the nut nut's nut! Bursting with flavour, a great source of protein and fibre, and with no added salt, KP Unsalted Roasted Peanuts are the classic tasty choice and perfect for Easter nibbling. (RRP £2.39, 250g)
Want to satisfy your sweet tooth without indulging in any more chocolate eggs? Butterkist Sweet & Salted snack packs give you that sweet hit without any regrets. At just 63 kcal per 12g pack, they're the perfectly light Easter sweet treat. (RRP £1.70, available at Asda, Tesco and Nisa)
Help the whole family go choc-free this Easter with Pom-Bear. A chocolate detox may seem un-bear-able, but these delicious little bears will ease the pain! Better still, Pom-Bears are under 70 kcal per individual pack and gluten free. (RRP £1.70, 6x13g in Sainsbury's).
Coding Critters™ Bopper, Hip & Hop
Bopper is the award-winning robot bunny that's ready to go on a coding adventure and introduce young children to early coding skills through fun play. This colourful set comes with the robot bunny Bopper, her two cute friends Hip and Hop, a fun playset, and a colourful storybook. Children follow along with the storybook and programme Bopper to go on a coding adventure with Hip and Hop. Children play out the stories using the playset, or use Bopper, Hip & Hop for child-led pretend play.
See > https://www.learningresources.co.uk/coding-critters-bopper-hip-hop
Fruit Bowl's Dino Yogurt Eggs
Perfect for when your mini dinosaur is peckish to prehistoric proportions, for adding into an Easter Egg Hunt or for topping an eggstra yummy Easter baked treat, Fruit Bowl's Dino Yogurt Eggs are a cracking alternative treat for children to enjoy!

Dino Yogurt Eggs are made with real fruit and excavated in Britain, made with juicy raisins covered in a creamy yogurt shell , with red, green and blue speckled yogurt dinosaur egg shells made using all natural colours.

Wrapped in individual bags, making them perfect for outdoor Easter Egg hunts, each bag comes with T-Rex, Pterodactyl, Velociraptor or Triceratops characters on the front with the outer packaging featuring dinosaur footprints and a dinosaur egg speckle.
Dino Yogurt Eggs can be purchased in Morrisons and Waitrose stores nation wide, as well as Fruit Bowl's website for RRP £2.00.
Seachange The White – Sea Change Sauvignon Blanc
Another incredible vegan friendly wine hailing from the iconic Languedoc-Roussillon region of France, this aromatic and elegant Sauvignon Blanc is sublime with roasted vegetables and for those that aren't vegan, it pairs wonderfully with white meats, seafood and soft cheeses. The initial flavours of fruit and blossom are layered with a subtle and sophisticated crispness, perfect for that spring feeling.
As with all Sea Change Wines, the Prosecco, Malbec and Sauvignon Blanc have minimal packaging, with the unnecessary plastic wrap covering removed from the closure and its label is made, in-part, from natural grape pulp.
The full Sea Change range is available to buy online at www.seachangewine.com
The Seed Card Company greetings cards
All eco-friendly and made entirely from post-consumer upcycled paper waste so no trees are harmed in their manufacturing process, The Seed Card Company greetings cards are recyclable, biodegradable, printed with vegan ink, and embedded with a mixture of wildflower seed types including Bird's Eye, Clarkia, Black Eyed Susan, Catchfly, Snapdragon and Sweet Alyssum. Plus, partnering with global reforestation effort, Ecologi, each time a card is purchased The Seed Card Company and Ecologi will plant a tree.
See > www.theseedcardcompany.com
Sylvanian Families Hoppin Easter Set
The Sylvanian Families Hoppin Easter Set is a sweet product that lets you enjoy an exciting Easter egg hunt with your Sylvanian Families. This set includes the adorable Snow Rabbit Baby and seasonal accessories so you can get started on your Easter adventure right away!
Available to purchase here – https://sylvanianfamilies.co.uk/hoppin-easter-set.html
Miffy's Treasury
Join Miffy in this brand new collection as she celebrates her 65th birthday. This gorgeously collectible anniversary treasury contains five classic Miffy stories and is the perfect Easter gift for Miffy fans old and new.
Available to purchase here – https://www.waterstones.com/book/miffys-treasury/dick-bruna/9781471197758
Molang Super Soft Plush
Everyone's favourite kawaii character is now available as a super soft plush! Molang is the perfect friend to cheer you up when in need of sweetness and cuddles.
Purchase the toy here – https://molang.com/collections/plush-toys/products/plush-molang-super-soft-plush?variant=37214393073830
Stage V2
The Stage V2 is a high performance soundbar for TV, computers and gaming. The accompanying subwoofer provides the perfect enhancement for rich bass that reverberates throughout the room. With a myriad of connectivity options, this is the perfect audio entertainment system for use whether at a desktop computer setup or in the living room.
The Creative Stage V2 is the one-stop audio entertainment system for all your devices. Housing two custom-tuned mid-range drivers and accompanied by a powerful long-throw tower-sized subwoofer, the Stage V2 is capable of filling your room with captivating immersive audio and deep thumping bass.
See > https://uk.creative.com/p/speakers/creative-stage-v2
KINTYRE GIN
Located on Kintyre's scenic east coast, famously described as Sir Paul McCartney's 'place of escapism', the Kintyre Gin distillery nestles at the foot of Beinn an Tuirc (the hill they source the water from) which translates from gaelic as 'The Hill of the Wild Boar'.
The core range comprises four delicious, mouth-watering spirits, guaranteed to satisfy any gin connoisseur's palette.
See > https://www.kintyregin.com/
Mamas & Papas' Welcome to the World Soft Toy – Lamb Beanie
Introduce your little one to their nursery in soft, reassuring style. Mamas & Papas' Welcome to the World interiors collection is our much-loved, bestselling range. The new-look collection embraces super soft bamboo cotton and grey chambray fabrics for pieces that are soft to touch and gentle against baby's sensitive skin.
This cute and cuddly lamb will make a baa-rilliant best friend for your little one. Made from super-snuggly fabric it'll feel lovely for baby to cuddle up with, whilst the soft beanie filling is perfect for little hands to squish and feel.
See > https://www.mamasandpapas.com/collections/soft-baby-toys/products/soft-toy-lamb-beanie-
Mamas & Papas' Knitted Bunny Romper
Mamas & Papas' Welcome to the World newborn clothing collection is full of adorable outfits that are perfect for making first impressions. Made with super soft cottons that are gentle against your child's sensitive skin, these outfits are inspired by trends from the world of fashion, for a more contemporary take on babywear.
Your little bunny will love this cute romper. The soft knitted fabric and cosy long sleeves are perfect for keeping baby toasty in cooler weather, whilst the adorable 3D bunny tail will leave you hopping for joy.
See > https://www.mamasandpapas.com/collections/baby-girl-clothing/products/knitted-bunny-romper
Organix Choco Orange Soft Oaty Bars
Joining the Organix range of award- winning Soft Oaty Bar flavours, this new zesty orange & cocoa blend will be sure to spark little one's imagination and taste buds! Packed full of delicious juicy raisins, wholegrain oats and fruit juice, it's no wonder Organix Oaty Bars are the UK's number one toddler oaty bar*.
See > https://www.organix.com/our-foods/12-months/soft-oaty-bars/choco-orange-oaty-bar
SHO Water Bottle
SHO which makes a really lovely range of eco friendly drinks bottles. Made from stainless steel there's a whole range of colours to choose from, including its patterned designer range which would make a perfect Easter gift. Prices start from £19.99 and can be ordered from www.shoreusable.com
Doughlicious ready-to-bake cookie dough
Doughlicious ready-to-bake cookie dough is a lovely gift for biscuit fans: beautiful, 100% natural cookies ready in just 15 minutes you are literally giving the gift of perfect cookies every time! Buy from Wholefoods Market, M&S and www.doughlicious.co.uk
Happi Free From Launches New Easter Egg Range
Brand new confectionery brand, Happi Free From, has launched its new range of vegan and allergen free Easter Eggs.
Produced using gluten-free oat milk and rice syrup, the new Happi Easter eggs are dairy, gluten and soya free, and packed into 100% recyclable boxes with zero single-use plastic.
The all natural eggs are available in three delicious flavours: Plain Milk, Orange and Salted Caramel. Happi promises a perfect allergen-free chocolate egg, with no compromise on taste.
Using 47% single origin chocolate sourced directly and ethically from farmers and growers with a full 'farm-to-bar' supply chain, Happi puts great taste and quality above all else which is why it's replaced soya lecithin with sunflower lecithin to make the range completely allergen free. It is also 35% less sugar than other mass market chocolate brands.
See > https://happifreefrom.com
Double Chocolate Crème Egg Brownies – the ultimate Easter indulgence
Chocoholics rejoice! Award-winning bakery, Love Brownies has unveiled a limited-edition Double Chocolate and Crème Egg brownie and it is the ultimate in Easter indulgence.
The rich, gooey chocolate brownies combine dark Belgian chocolate with silky-smooth milk chocolate pieces, and just when you thought it couldn't get any better, a deliciously decadent mini crème egg is baked into each one. The Double Chocolate Crème Egg brownie is available in gift boxes of four, eight or sixteen and can be delivered nationwide.
Available online from 15 March and with Easter delivery available until 1 April this decadent and indulgent gift can be delivered nationwide in boxes of four, eight or sixteen from Lovebrownies.co.uk or can be bought from one of Love Brownies' eleven shops across the UK from 15 March.
Award-winning Love Brownies are individually baked using the finest ingredients and each box comes beautifully wrapped with a hand-written note.
Prices for Double Chocolate Crème Egg brownies start from £16 for a box of four including delivery. Or for a gift that keeps giving, subscription boxes are perfect, with a different flavour box of four brownies delivered every month. Available for six or 12 months for £70 or £140.
Noah Baking Box
The Easter weekend is fast approaching – meaning there's two bank holidays and hopefully some reunions on the horizon. Whether you're hoping to entertain the whole family, bake a show stopping cake for your nearest and dearest now the rule-of-six has returned, or simply up your kitchen game; noah's Baking Box could be just what you're looking for!
The noah Baking Box includes everything you need to perfect your baking skills over the long weekend. From premium baking utensils featuring soft silicone heads and bamboo handles, a revolving rolling pin, no stick bakeware (including the lockdown-essential loaf tin) to extras such as cookie cutters, mixing bowl and even piping bags, the noah Baking Box delivers everything you need to create bakes from chocolate nests to three-tier centrepieces. There's even the option to upgrade to the Advanced Kit (£84) if you want to really level up your baking game. Best of all – noah's Baking Box saves you 25% compared to purchasing on Amazon.

noah provides a collection of perfectly curated 'Starter Kits', packed with tried and tested, high quality tools, utensils and essentials, delivered directly to your door, next day. From kitchen boxes, to a homemovers box,baking kits and student essentials, noah provides everything you need to take your first step of every new endeavour; all the while costing you less time and saving money at the same time.
Fill Your Own Photo Gift Box for Easter
Create a personalised Fill Your Own Photo Gift Box from CEWE for the perfect customised Easter surprise.
See > https://cewe-photoworld.com/photo-gifts/fill-your-own-photo-gift-box-for-easter
The elegant rosé – McGuigan Single Batch Project Rosé
Add some pink this Easter with the McGuigan Single Batch Project Rosé, full of intense flavours of fresh strawberries and cream with hints of citrus fruits to create a clean, crisp finish.
Tasting Notes: A wine full of intense flavours of fresh strawberries and cream with hints of citrus fruits.
Pairing Suggestions: Seafood linguine or a light salad.
Stockist & RRP: Co-op, £7.50
Wild Vanilla Studios EASTER COLLECTION
Shop this thoughtfully curated range of gorgeous Easter treats and gift something extra special this year (or treat yourself!). Your gift will arrive beautifully wrapped and include a hand-written greeting card for that added personal touch.
See > https://www.wildvanillastudios.co.uk/easter
Lily's Kitchen
The award winning producer of proper food for pets – has launched an Easter Feast recipe for dogs, so that woofers can join in the Easter Weekend fun.
The recipe is succulent lamb served with fibre-filled asparagus, delicious potatoes, vitamin-packed kale and of course marvellous mineral-stuffed mint. Yes, that's the dog's dinner, not yours.
The recipe is available to buy direct from Lily's Kitchen
Virginia Hayward Chocolate Indulgence
An indulgent treat for the chocolate lover in your life, the Chocolate Indulgence really does tick all the boxes to satisfy that infamous sweet tooth! Whatever the occasion, we've got just the thing.
See > https://www.virginiahayward.com/chocolate-indulgence-2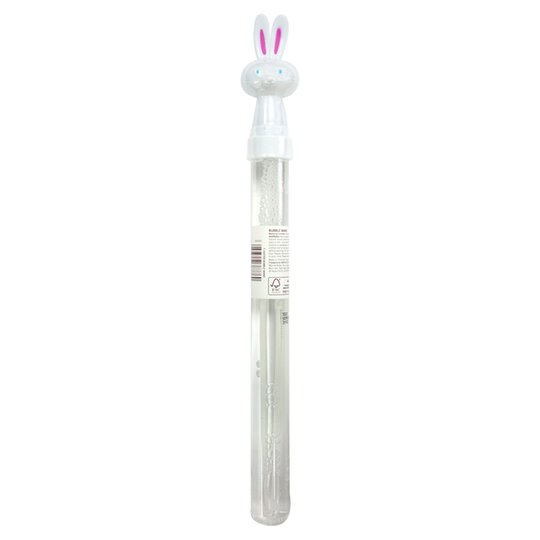 Tesco Easter Bubble Wand
Wave this giant wand around and watch the giant bubbles fly!
See > https://www.tesco.com/groceries/en-GB/products
Tesco Easter Bunny Bopper
Perfect for dressing up!
See > https://www.tesco.com/groceries/en-GB/products/
Tesco Easter Cupcake Set
Perfect for Easter celebrations, these cupcake cases and toppers will bring your Easter cupcake recipes to life!
See > https://www.tesco.com/groceries/en-GB/products/
STABILO Woody 3 in 1
The STABILO woody 3 in 1 is perfect for kids to draw and paint and ideal for parents too – it washes off windows and is suitable for many surfaces besides just paper or cardboard. STABILO woody 3 in 1 is a range of 18 colouring pencils that also function as wax crayons and watercolours, making them ideal for aquarelle work. They offer vibrant colour intensity and opacity and even work on dark paper. STABILO woody 3 in1 pencils are long lasting, as the large 10mm lead contains as much colour as eight standard colouring pencils. The STABILO woody is so versatile it can even complement the more mature artist's toolkit.
See > https://www.stabilo.com/uk/products/colouring/colouring-pencils/stabilo-woody-3-in-1/