Lockdown Q&A with Made In Chelsea's Miles Nazaire…
Miles Nazaire is best known for his appearance's in the hit E4 television show 'Made In Chelsea'.
After joining the show in 2018, he has become an instant hit with fans for his charismatic charm and upbeat energy.
The 24-year-old half French heartthrob catches up with Bounce Magazine's Rachel Ducker and chats fitness, lockdown and MIC.
R: Most of us will know you from the popular TV series 'Made In Chelsea', what are the pro's and con's of being on a reality TV show?
M: The pros are that it has given me an opportunity to make a brand for myself. I also get to be with my friends and work with them, that's a really fun thing.
In terms of cons, there's not many, but you will get a bit of back lash here and there with regards to the show, its only natural, they are filming your day to day lives and what you do, so if you mess up or if you do anything stupid, the whole nation gets to see it!
R: Which is never a good thing is it!?
M: The thing is you film it, the series comes out and then you look back and go 'ah I can't believe I did that'!
R: So, I guess filming has ceased at the moment. How have you been spending your lockdown?
M: One thing that is big for me and my house mates is having a routine in the house.
My routine outside of the house is really regimented. I wake up, I train, I have meetings throughout the day, then I film, then I go back to the gym and I train again, so usually throughout the day I am not home at all, so being at home is actually very weird for me.
R: I can imagine…
M: I was speaking to my house mate about it and we've got to enjoy this time of isolation because as soon as we are back out its going to be crazy busy again and we will be straight back into work mode.
We've been making the best of it, yesterday we played mini golf in our flat!
R: It sounds quite fun in your house to be fair!
M: [laughs]
R: I think this lockdown has just given everyone a chance to just take a step back and really see think about things for what they are, it's a good time to reflect and work on yourself, I understand you've still been working on your fitness a lot at the moment – how are you carrying that on at home as opposed to being at the gym?
M: Again, that's another thing that was a big shock for me because I was so used to training in an amazing gym, Equinox in London, after going there twice a day every day it has become my safe zone so its good for me in terms of my own mental health.
Now I am isolated and training at home, I have had to work with what I have got, I have a couple of dumbbells and kettle bells that I can use… again you've got to adapt.
I am not training as much as I normally do, just because I don't have exactly what I need, so I do an hour and a bit every day to train as much as I can to stay sane!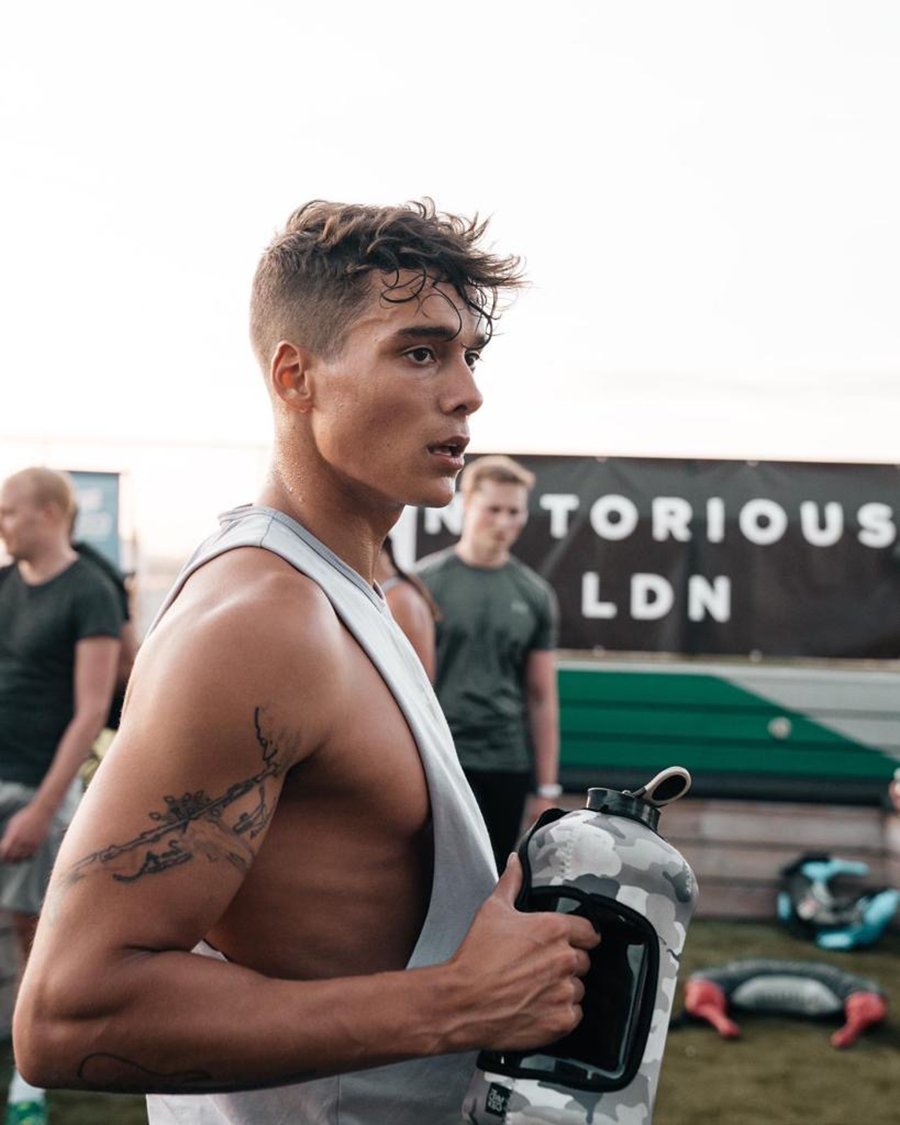 R: I am quite into my fitness myself, so I understand, I got to the point where if I didn't do some kind of exercise in my day, I would be climbing the walls!
M: Yeah…
R: I am really lucky to based in the countryside, so there are plenty of fields to run around in at the moment…
M: Sweet – yeah kind of perfect actually?
R: It's great that it's almost forcing us to go back to basics in some way?
M: Yeah one hundred percent!
R: In terms of your home workouts do you follow anyone online or have you been doing any of your own routines?
M: I've been doing a lot of live workouts. My best friend who helped me with my transformation two years ago now, has a company called Rave London and they do live workouts every other day and it's amazing. It's a full hit body work out, so I follow that.
R: Looking at the other side of keeping a healthy lifestyle, what's your lockdown diet like? What are your food cupboard secrets?
M: [laughs] Food cupboard secrets? You know what… a lot of tuna, it's a good source of protein. I also use egg whites every single day, you can get a tub of egg whites in a powder form its perfect. So, egg whites and tuna are a must have in my cupboards.
In terms of diet, and you know what, I am going to say this is for everyone, its more the fact that right now, you won't have the best diet.
R: Mines called the wine diet at the moment!
M: I mean, hey, oh my god, I completely agree!
R: [laughs]
M: A lot of alcohol has been consumed over the last couple of weeks!
R: It's when you get to the end of the day and you just feel so bored, you just have to open a bottle of wine.
M: We always say that in this house, it's like we are not doing anything tomorrow, we don't have to get up and go anywhere, we know we are just staying at home, so even if you're feeling a little bit ropy in the morning it's not going change much!
R: No, we've got to make the best of it at the moment and if you want to drink wine, drink, it, everything in moderation, right?
M: [laughs]
R: I am a regular watcher of Made In Chelsea and in the latest series your father makes a special appearance!
M: Yeah!
R: Are you missing your family during lockdown?
M: Yeah, the thing is my family live overseas, so even before lockdown I didn't really get to see them much.
We are told we can't really leave the country for more than a day or two as they might need us in for filming, so before it was already quite hard – I try to see them as much as possible, but now it's even worse.
I miss them. I speak to my mother on FaceTime about five times a day!
R: Mine too! I have recently had a baby so…
M: Oh congratulations!
R: Thank you, so my family are missing out on my sons first year and its heart-breaking.
M: Oh yeah…
R: We just want to be able to see them; we don't live that far away but it's tough.
M: Oh my god, yeah, I can imagine, but not long left hopefully?
R: Speaking of families yours is quite creative. What's the most creative thing that you've ever done?
M: Yes, mother and father are very arty and so is my sister. I used to draw a lot of portraits as a kid, my big thing when I was really young was making huge houses out of cardboard. I try as much as possible now, but it's hard as I have priorities which now come first. My dad has always said I should go back into it.
R: Well there is plenty of time to practice at the moment?
M: Exactly, exactly.
R: So you also had your own YouTube channel previous to 'Made In Chelsea'?
M: Oh my god I mean, that was years ago, I haven't been on it for years.
R: I was just wondering if there was any chance of a re-launch?
M: I am not sure yet, a lot of people, since I have been living with Jack, (YouTuber Jack Maynard) who is a very big YouTuber, a lot of people want me to do my own, but I now feature in a lot of Jack's videos. It's not really my domain, I am more TV. I don't know what people would to see?
R: I guess you do have a good teacher literally on your doorstep?
M: I think at some stage it's something that will definitely happen but I want to plan it better.
R: We will watch this space!
So being half French, do you prefer speaking in French or English?
M: I much rather prefer to speak in English but in terms of my family I like to speak in French. I am bilingual so I guess its half and half.
R: I am quite jealous to be honest, its quite a talent to have?
M: [laughs]
R: You will be pleased to know I am not going to ask you about any ex—girlfriends or women in your life as I think that should remain personal – however, I am going to ask you want the most embarrassing thing is that you have ever watched yourself do on a 'Made In Chelsea' episode?
M: [laughs] oh my god!
R: I think that's a good compromise of a question, don't you?
M: That is a great compromise, I love that, that's really, really good, I mean… I am not going to lie, most of the things I watch myself do I cringe at!
[laughs] to pick one, when I was in Croatia, it was my first year of Chelsea so I was very new and wanted to create the drama! I remember the scene when I was with this girl called Tabitha and I had to tell her new guy that I was also with her at the time, and I remember watching my smug face – I looked like an absolute idiot, and now I deeply regret it, but it makes good TV so why not?
R: And lastly to end our chat – what advice would you give to others doing home workouts?
M: It sounds simple but start anywhere, don't go too crazy with your goals initially, start with getting your body fit – and that doesn't mean aesthetically fit but it's getting your body used to training.
After that you can set your goals. Don't make it a chore, make it a lifestyle, and then you will see everything change in your life.
R: Brilliant, well I will start with my ten-minute abs I think!
M: There you go!R: Thanks so much for your time Miles, I hope you survive the rest of lockdown stay safe.
M: It was my pleasure you too!
Photos © TV Personality and Fitness Influencer Miles Nazaire @milesjnazaire