Find the right gift for a baby boy…
Welcome a baby boy into the world with our fabulous ideas for baby boy gifts!
Whether it's your new-born son or your baby nephew, why not spoil him with something special? …
From sweet personalised keepsakes to cute little toys, you can't go wrong with our wonderful gifts for baby boys.
Matchstick Monkey
The original Matchstick Monkey Teething Toy, now sold worldwide in over 35 different countries, was so successful that we now offer other innovative teething and baby products including comforting muslins and blankets, plush toys and gift sets.
Matchstick Monkey understands that every moment matters when it comes to your baby and that is the same for every parent in everywhere around the world.  We believe design and safety are imperative for little ones, so you can rest assured that our products are made to the highest standards.
Perfect for small hands looking for something to hold with ease.
Purchase here from Matchstick Monkey > https://www.matchstickmonkey.com
The White Company Safari Baby Gift Set…

A really special gift set for newborn babies, the pieces are hand-chosen by us with optimum softness and comfort in mind. Inside you'll find our pure-cotton Little Safari Sleepsuit and our adorable Monkey Comforter. The items come presented in our white gift box, topped with a beautiful ribbon. Comes in gift box.
Purchase here from The White Company > https://www.thewhitecompany.com/uk/Safari-Baby-Gift-Set/p/SFTGS?swatch=White
aden + anais silky soft swaddles
aden + anais silky soft swaddles combine the breathability and versatility of muslin with rayon made from bamboo for off-the-charts softness. Ideal for swaddling, a nursing cover, changing mat cover, burp cloth, tummy time blanket and more. The brand new stargaze collection features orbiting planets and delicate sketches, which will appeal as much to parents as little ones.
Purchase here from aden + anais > https://www.adenandanais.co.uk/all-swaddles/
Wool Couture
The Blossom Jumper Baby Knitting Kit is part of the new baby collection using our Beau Baby DK Yarn. Super soft on your baby's skin and machine washable.
Looking for a gift for a friends baby? Give them this handmade by you baby sweater. The jumper has a button neckline and cross stitch details on the hem and cuff. The pattern mainly uses a knit stitch with increasing and decreasing required for shaping.
Blossom Jumper Kit Contents:
4 or 5 balls of Beau Baby DK Yarn
Our Blossom Jumper is presented in our branded 'Baby Couture' fair trade cotton zip bag
Contrasting yarn for the cross stitch
3 coconut buttons
Tapestry Needle
Blossom Jumper Pattern
Optional 4mm knitting needles
Purchase here from Wool Couture > https://www.woolcouturecompany.com/product/blossom-jumper-baby-knitting-kit/
Ramer Sponge…
Ramer Ultra-Soft Baby Sponges have been used for generations to pamper and gently bathe precious little ones. The super fine texture has been especially designed to be kind to baby's delicate skin. Each pack contains two contrasting colour sponges, one for baby's top and the other for baby's bottom. Ultra Soft 'top & tail' bathing everytime.
Hypoallergenic and Dermatologically tested
Dries hard so helps reduce bacteria growth
Machine-washable at 40oC
Approx dimensions: 85mm x 21mm
See https://ramersponges.com/ramer-ultra-soft-baby-sponge-pale-yellow-and-white.html
Sophie La Girafe Milestones 
When did your baby first smile? Or sit? Or walk? Now you don't have to let these special moments become distant memories thanks to the special partnership between Milestone, creator of the Original Baby Cards, and Sophie La Girafe, the French icon, beloved by millions! Each card details a sweet moment and is illustrated in Sophie La Girafes inimitable Parisian style. Add a card to your baby pictures and you will never forget when your little one slept through the night, started to crawl or said mama for the first time.
Includes:
Presentation box
24 cards
Sophie la girafe illustrations
Captures moments in your baby's first year
Ideal gift for new parents
Purchase here from Jojo Maman Bebe > https://www.jojomamanbebe.co.uk/d6924.html
3-Pack White Newborn Gift Hangers 
Help keep tiny outfits looking their best with the JoJo White Newborn Gift Hangers. Featuring our popular Little Elephants design that co-ordinates with many of our baby pieces, these hangers make a beautiful and practical gift.
Includes:
deal gift
Perfectly sized for baby clothing
Elephant design
Set of 3
Purchase here from Jojo Maman Bebe > https://www.jojomamanbebe.co.uk/3pack-white-newborn-gift-hangers-d4624.html
Miffy Mint Booties
Babies can put their best foot forward with these super cosy booties created for both comfort and the cute factor! Baby will look adorable in these soft, lined mint-coloured booties which feature a mini Miffy head on the front of each bootie and a jingle bell rattle in each toe. Ideal for keeping baby warm in winter and soft enough for baby's delicate bare skin in warmer weather, the Miffy Mint Booties are both practical and fun and encourage baby to explore their senses.
Suitable Age – From Birth
Size (cm) – 12l x 4w x 7h
Fox's Socks Gift Set with Beanie Fox – 2 Pair 
This gorgeous gift set includes 2 pairs of our roll top Stay on Socks along with the wonderful Fox's Socks open flap board book & a plush beanie Mr Fox toy.
It is a perfectly practical gift for Babies, Toddlers or new Mums!
Fox's Socks is an adorable story about poor old Fox who has lost his socks – can you help him find them? Lift the flaps and find out! The book is by Julia Donaldson and Axel Scheffler, the award-winning creators of The Gruffalo. (RRP £5.99)
Beanie Mr Fox Soft Toy stands at 15cm high. A plush beanie toy that is made in velvety soft material, with stitched facial details. Suitable from birth.
All gift sets come beautifully wrapped in tissue paper and ribbon then packaged inside a premium gift box.
The company donate 10% of the profits from all of our sock sales to the CCLG (Children's Cancer and Leukaemia Group) who are a leading children's cancer charity and the UK and Ireland
Purchase here from The Little Sock Company > https://thelittlesockcompany.com/collections/all/products/foxs-socks-gift-set-with-beanie-fox-2-pair
Emile et Rose – Outfits for boys  SS19
Emile et Rose babywear collections are renowned for traditional pastel blues and pinks, but staying on trend with great prints and accent colours.
Their fabrics are mainly cotton or cotton-rich and are soft and comfortable to wear. Their clothing is stylish yet completely practical for babies as they grow and explore their surroundings; everything is machine washable.
Read our brand focus here to see the baby boy SS19 collection. https://bouncemagazine.co.uk/parenting/emile-et-rose/
Purchase here from Emile et Rose > https://www.emile-et-rose.co.uk/collections/spring-summer-2019
Itsy Guzzler
TURN EVERYDAY DRINKS INTO A BABY'S BOTTLE – With 3 unique attachments in 1 clever device, the Itsy Guzzler is ideal for those bottle feeding or combination feeding and use pre-made bottles or cartons from time to time.
ANTI COLIC & ORTHODONTIC – Supplied with pure silicone, interchangeable teats.
Purchase here > https://itsykids.com/products
Handmade Personalised Baby Memory Box…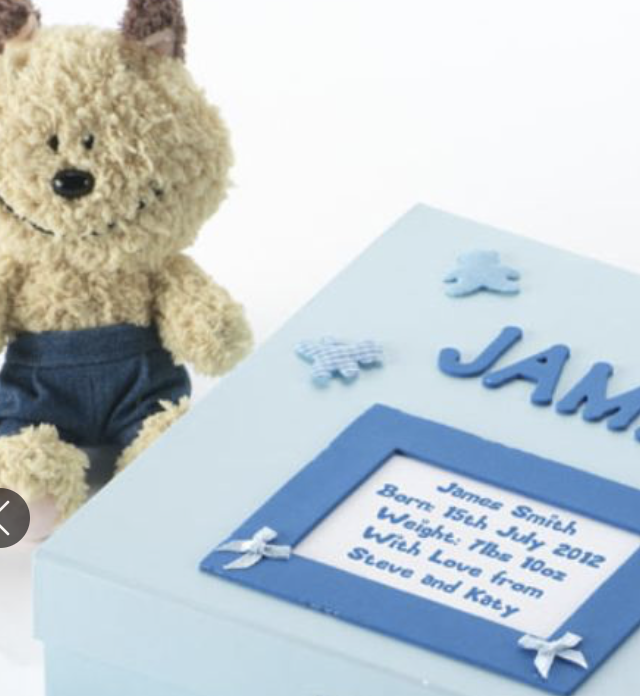 Mark the arrival of a New Baby with the beautiful handmade personalised keepsake box. Available for both baby boys and baby girls and in 2 sizes Large and Small.
The keepsake box is perfect to store photo's of the baby at birth and as they grow. Fill with cards, letters, hospital bracelets, pretty much anything that reminds you of those precious baby moments!
The box itself is made from high quality rigid card. There is a concealed magnetic strip which keeps the lid firmly shut and also a pretty decorative ribbon which holds the lid down firmly.
Each box is personalised with the babies first name at the top and then is surrounded by 4 cute little padded teddy bears. Then underneath the name there is a plaque with room for the babies birth details, including the baby's full name, weight, DOB, time of birth, and who the box is from (If you don't know some of the details then leave it blank and we can use the name and date of birth). The details are thenprinted onto quality card and attached with a co-orinating plaque.
Purchase from https://www.thegiftexperience.co.uk/catalogue/handmade-personalised-baby-memory-box