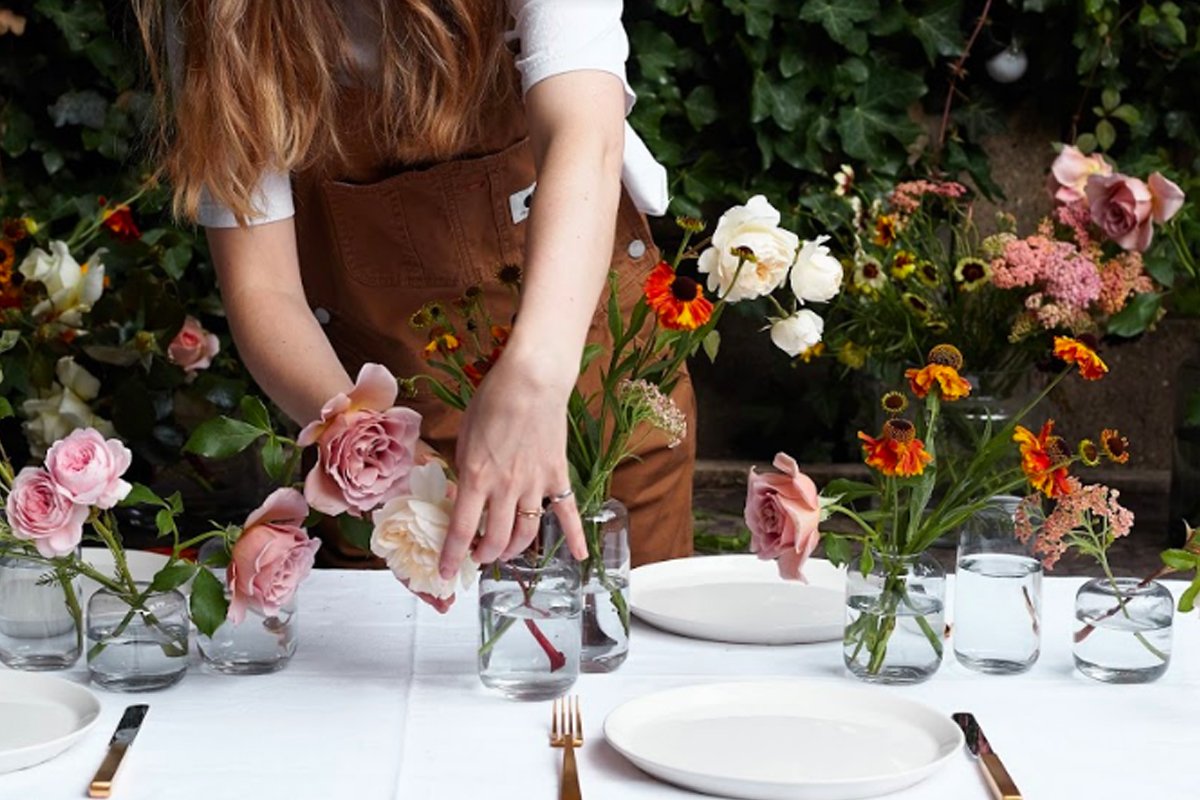 Go fabulously floral with Montezuma's (despite The seasonal showers!)
UK's Leading Floral Expert Partners with Montezuma's Chocolate to Share Tips On How To Brighten Up Your Dining Experience With Flowers
To brighten up our British Summer, Montezuma's Chocolate has partnered with one of the UK's leading florists to inspire the nation to bring some extra colour into their dinner parties at home.
The Floral Extraordinaire, Carla Gottlieb, will be encouraging chocolate lovers to transform their dining experiences, from culinary dishes decorated with edible flowers, to creating floral table displays and making the most of your bouquets.
Carla's will share her secrets on how to:
Decorate Dishes With Flowers For The 'Ohhh And Ahhh' Factor: Tips on how to decorate with flower petals, which colours go well together and which flowers are edibl
How to Use Flowers & Twigs From The Garden To Create Floral Table Displays Like a pro: A masterclass which will include industry secrets on table design along with making dinner times more fun for the family with help from flowers to twigs
Make The Most Of Your Bouquets: Whether its flowers picked from the garden to other grass, moss or twigs found on your nature walks
The perfect way to put a smile on your face, as well as those around you, Montezuma's Moments take place each Friday, exploring creativity, sustainability and quality. Simply tune into Montezuma's Instagram feed to get involved @montezumaschocs and visit @stilllifeflowers for considered floral design.
Montezuma's Chocolate & Hazelnut Flourless Cake Created – Serves 8-10
Using a mix of calendulas, pansies, roses and abutilon petals (all edible) and Montezuma's Chocolate
250g unsalted butter
180g (2x90g bars Montezuma Fitzroy 74% dark chocolate) 400g roasted hazelnuts
5 eggs
200g caster sugar
1⁄2 tsp sea salt
Cocoa, to dust
Serves 8-10
Method:
Preheat the oven to 160C/ 140C fan/320F/ gas mark 3, grease and line a 23cm/ 9 inch round cake tin with baking parchment.
Break the chocolate into pieces and melt with butter together in a heatproof bowl set over a saucepan of simmering water, make sure the bottom of the bowl is not touching the water. Once melted transfer to a large mixing bowl to cool.
Blitz the hazelnuts in a food processor until you have fine crumbs, be careful not to blitz for too long as eventually they will come together and turn into a nut butter. Once blitzed add to the chocolate mixture.
Seperate the egg whites and yolks into two bowls. Whisk the egg yolks together with the sugar until fluffy and pale. Then fold into the chocolate mixture.
Whisk the egg whites to soft peaks and then gently fold this into the chocolate mixture too, adding a pinch of sea salt.
Pour the cake batter into the prepared tin and bake for 35 minutes. You want the cake to still be soft and gooey in the middle.Leave to cool in the tin and dust with cocoa powder before removing. Serve with something tart, like greek yogurt or crème fraîche.